Atelier du Baron, your upholsterer decorator
As an upholsterer-craftsman, I can help you revive your benches, armchairs and seats, either with material or leather coverings. Restaurants, hotels, communities: my repair services are dedicated to all professionals as well as anyone wishing to offer his boat a very special maintenance-care. If you want to restore or manufacture armchairs, seats, benches, sofas, poufs, chairs and vintage or contemporary furniture, please let me know about it. Also available at your convenience are :

decorative upholstery
For a personalized interior decoration in your image.
car and motorbike saddlery
Creation, replacement and repair of your motorbike saddles, seats and car interiors.
Medical saddlery
Customisation of your medical practice equipment: armchairs, massage tables, stools, etc.
leather goods
Leather work and maintenance with professional products.
Renovation and repair of benches and armchairs
Through months and years, your armchairs, benches and seats have worn out and faded. Some stains are now embedded.
Thanks to a meticulous restoration and repair work, I can sublime the material or leather of each armchair, bench or seat.
Foam upholstery also has a propensity to sag with time.
This is why my expertise is at your service to restore each piece of furniture to its original comfort.
Renovate, decorate and personalise your interior
Your furniture, armchairs, benches, chairs will be given a new youth, though they will remain quite particular and original. Atelier du Baron will support you and adapt to your wishes at each stage of your project, with a fully personalised creation.
You will be given a full appraisal of the general condition of your furniture, as well as an estimate about upholstery repairing, refurbishing or changing process.
You will have your seat upholstery and backseat foam revised and renewed
Even the last finishing touches will be made for you, your comfort and all types of furniture
such as seats, armchairs, sofas, bedding and headboards.
Give yourself a chance make options out of a wide range of quality, standardised synthetic materials, foams, leathers and upholstery fabrics.
Seat renovation and all styles furnitures
I am committed to using semi-traditional craft techniques, perfectly mastered, in order to repair, restore or upholster all your armchairs, seats and cushions.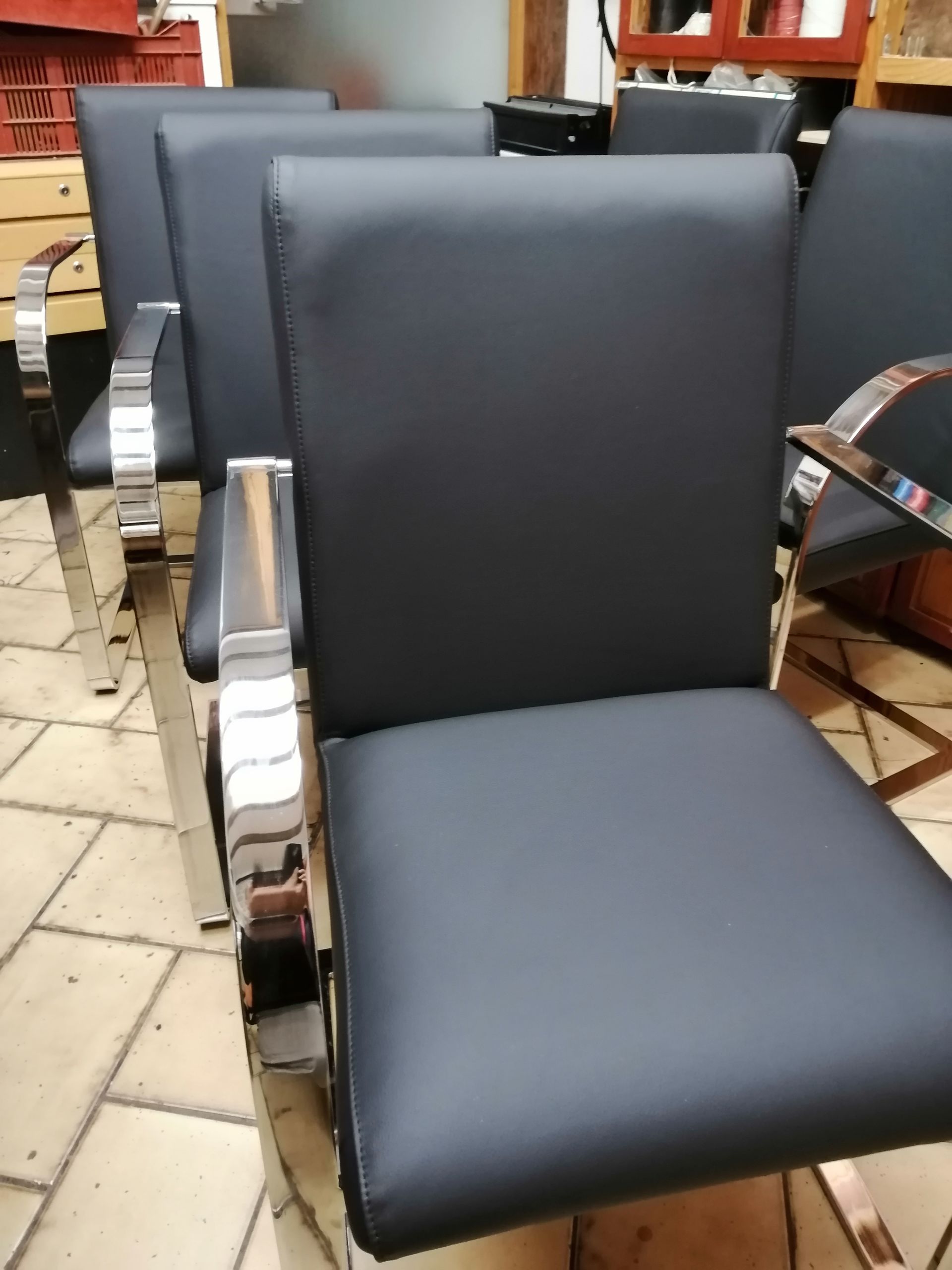 My 20 years' know-how has been constantly enriched by aesthetic concern and practicality, You will take advantage of my expertise if you want to have your interior furnishings customised.

As an upholsterer and decorator, I can give you professional advice about design, maintainance and repair. Of course, all our products are guaranteed as being 100% French products.

Artisan upholsterer decorator,I bring you professional advice for the design, maintenance or repair of your upholstery and leathers. 100% French manufacturing in my workshop in Vesoul.
If you are dentists, physiotherapists, doctors, osteopaths and health professionals, you may have your chairs, seats, examination  and massage tables, stools, couches repaired at my workshop.
Your equipment will be customised according to your speciality.
You will be shown bacteria resistant materials adapted to  your medical purposes.
Of course, meetings can be arranged at your convenience even during week-ends.
If you are in need of car-motorcycle saddlery, whether you are professionals or individuals, collectors or  just fans,
I can repair or create your motorbike saddles and your car upholstery (lever covers, seats, bench seats, door panels, carpets)
I can replace or improve your motorbike seats with foams according  to your requirements.
I can also design and customise your vehicle interior
You are a professional in the private sector (restaurant, hotel, etc.) or public (retirement homes, hospitals, etc.) ? Entrust your project to a passionate upholsterer!
Other achievements on the Facebook page
Individuals, contact me and enjoy the accompaniment of a craftsman passionate about upholstery. I will be able to adapt to the specificities of your furniture, guide you in the choice of materials and colors, but also provide you with the best advice for the maintenance of your armchairs, seats and leathers.